NUVERUS PLUS™
Nuverus Plus™ is a unique blend of superfoods that helps you to fulfil the daily needs of proteins, minerals, glycol-nutrients required by our immune system to help us stay fit and healthy. It is a nutritional powerhouse that helps to detoxify our body, keeping it toxin free and provides us with antioxidants that may protect cells against free radicals, which have shown to play a major role in heart disease, cancer and other disease.
Combining the wholesome goodness of various natural ingredients like Nigella Sativa, Aloe Vera, Curcumin, Mangosteen, Pomegranate, Noni, Acai, Green Tea, Blueberry, Goji and Quercetin, NuVerus Plus™ is geared to fit into today's busy lifestyles. These essential ingredients contain powerful antioxidants that help protect the body from harmful free radicals, provides pure energy and it tastes great too.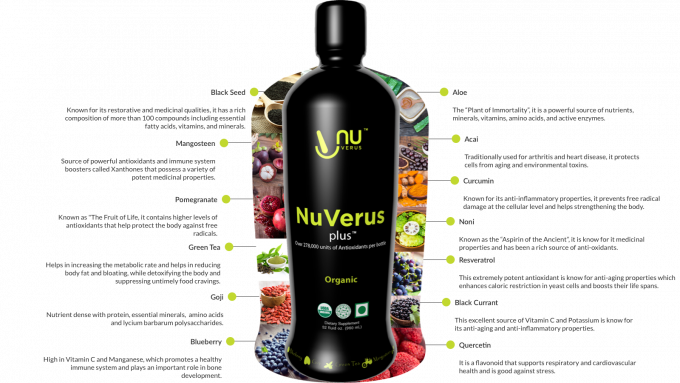 ---
NuVerus Omega TM
The Only DHA Enhanced SuperFood supplement you will ever need for a healthier function of the brain, eyes and body.
Formulated Exclusively for NuVerus by World Renowned Neurosurgeon and NuVerus Medical Board Charman Dr. Julian Bailes, MD.
Omega-3 fatty acids are essential fatty acids. We need them for our bodies to work normally. Because essential fatty acids (DHA and EPA) are not made in the body, we need to get them from our diet. Research shows strong evidence that the omega-3s EPA and DHA can boost heart health and lower triglycerides, as well as help with rheumatoid arthritis, depression and many more.
Omega-3s also play an important role in reducing inflammation throughout the body, the blood vessels, the joints and elsewhere. Omega-3 is essential for the development and healthy functioning of the brain, eye and heart, for all stages of life, especially children. Omega 3s are needed by every member of your family, from pregnant and nursing women to infants, children and all adults.
The Power of Black Seed in Omega
NuVerus is the first company to combine essential Omega with the power of the ancient SuperFood Black Seed oil. Black Seed is one of nature's greatest gifts. Physicians as far back as the 1st century used Black Seed to treat a variety of ailments and sicknesses. The Black Seed oil has a rich composition of more than 100 compounds including essential fatty acids, vitamins and minerals.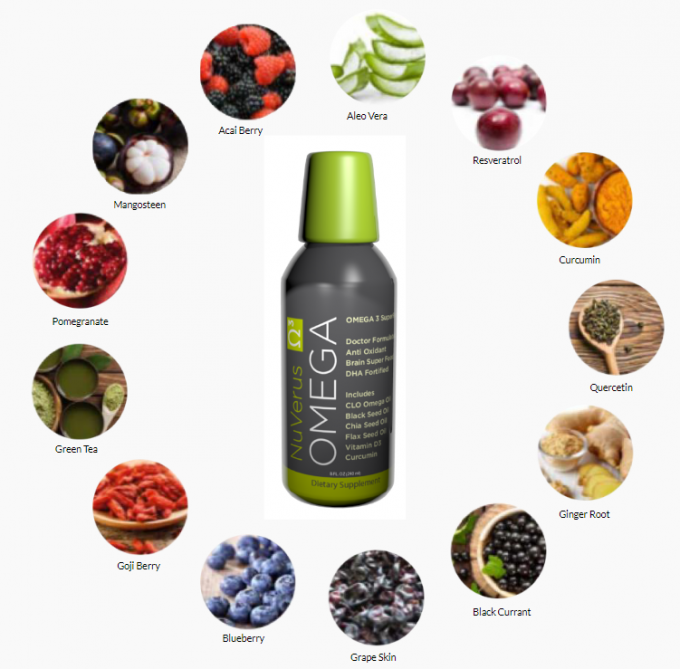 ---
Nuverus TrimTM
Story
Let's face it; we all know we need to drink 6-8 glasses of water per day. It is one of the most important Keys to being healthy and staying thin. However, according to some, water does not have a satisfying taste. Unfortunately, most of us go for unhealthy beverages or even high-calorie beverages. Many of us drive through our favorite Café and consume fancy drinks that
The NuVerus Trim Solution
When you add NuVerus Trim to your daily water intake, you will love the flavor. Trim will quench your thirst and give your taste buds the stimulation they seek, but that is just the beginning.
Trim was designed to deliver specific Super Foods that are proven to control and suppress your appetite. When you drink Trim during your mid-morning snack time (after a smart healthy breakfast), within minutes, you will notice you are not hungry. Thus, you won't reach for a high-calorie snack or one of those cans of diet soda that are very unhealthy!
At lunch, drink a big glass of Trim water again before eating. You will notice that you will eat 25-50% less at lunch. Then, in the mid-afternoon, have another tall glass of Trim Water! Do the same thing before Dinner and in the evening.
The result of your Daily Trim:
More Water for a healthier Body
Less Calories from Sugary Drinks and Snacks
Lighter Meals
Long-Term Weight Loss
Maintain a healthy BMI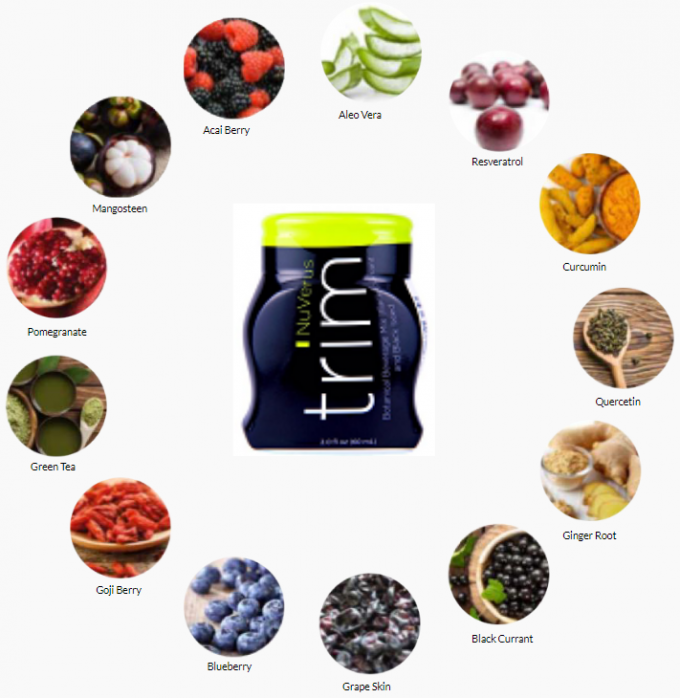 ---
NuVerus EnergyTM
Story
NuVerus energy combines ancient wisdom with modern science for a new kind of Antioxidant SuperFood Energy Drink. NuVerus energy will give you the energy you are used to from other energy products or your morning coffee. However, that is where the similarities end.
NuVerus energy contains Powerful SuperFoods for optimal health including: Black Seed Oil, Grape Skin Extract and Quercetin. For centuries, the health benefits of Black Seed could only be realized through pill or oil form; however, today,through advanced research and technology, NuVerus has extracted the most important components of Black Seed and formulated them to work together with all of NuVerus energy's other ingredients.
NuVerus energy is made with Organic Juices including: Blueberry, Pomegranate, Noni, Apple, Pear, Grape and Cherry. These Organic Juices are loaded with Vitamins, Minerals and Antioxidants for advanced daily supplementation for all your nutritional needs.
NuVerus energy uses a base of Aloe Vera for advanced absorption. Aloe Vera hydrates your body, reduces inflammation and helps eliminate soreness after athletic performance. By using Aloe Vera, the nutrients in NuVerus energy are absorbed at a maximum rate of 300% higher.
NuVerus energy is certified USDA Organic and contains no Preservatives or Artificial Sweeteners. NuVerus energy tastes delicious. Add to your morning dose of NuVerus Plus to start your day energized.
Mix NuVerus energy with your favorite beverage or blend into a smoothie for a delicious and refreshing functional beverage.**